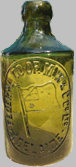 <![if !vml]>

<![endif]>
specialising in South Australian antique bottles
PICKAXE BOTTLES

26 oz brabdy southwark

Harder to find than the wine or whiskey southwarks this brandy does have some staining but other wise fine

$45

aqua pickaxe whiskey

Aqua SOUTHWARK embossed whiskey good condition with some minor haze stock picture please ask for one of item itself

$45

aqua crown seal

Aqua crown seal stock photo so condition varies, good examples from, ask about the availability of clear crown seals

from $10

amber crown seal

Amber pickaxe beer good condition stock photo, some other variants may be available ask about reverse N bottles

from $5

green crown seal

Stock photo green pickaxes available in good condition ask about the availability of reverse N variants

from $10

green ring seal

Generally in good condition, stock photo variants available may include reverse N, company or society wording and some differences in colours

from $15

pint claret

One of the hardest to find pickaxes and highly regarded in good condition has some minor marks ask for more photos. Rated as A rarity

sold
pickaxe bottles
Pickaxe bottles are having a surge in popularity, many collectors both South Australian and interstate like to collect these bottles. Depending on what you read, as with most generic style bottles there are very common variants, but as you will see from the pickaxe links below, some prove almost impossible to find.
---
Adelaide Bottle co operative company
The story of the Adelaide bottle co ltd.
---
Pictorial guide to pickaxe bottles.
---