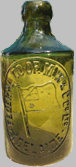 <![if !vml]>

<![endif]>
specialising in South Australian antique bottles
COLOURED GLASS

medco apothecary bottle

Nice mid 1920's green glass apothecary or chemical bottle, embossed with MEDCO and around the base

$15

early case gin

Early case gin bottle crude applied top and uneven sides no chips or cracks

$15

pair of cobalt apothecary bottles

2 bottles both with some evident staining no chips or cracks but a couple of great cobalt apothecary bottles both would look great with a light oil

$25

cobalt caster oils

With a few different sizes and styles no chips or cracks most have staining value at $5 each

$5

3 piece mold black glass flask

dating from around the turn of the century this flask bottle is unusual. The glass is a bit dull nothing a light oil would not improve

$30
COLOURED GLASS
Glass bottles are available in almost any colour you can think of. From cobalt blues, amethysts to black glass, ambers and greens. Bottles in these colours catch the eye and always create a talking point. If it is coloured and it is not anywhere else on my site it will be here.
---
the making of coloured glass
The colour of a glass bottle is determined by the different compounds that were put in the mixture.
Different colours were often used to identify the content of the bottles. Cobalt blues were more often than not used for medicines and poisons as were ambers and greens.
Beer and other types of drink bottles are often found in ambers, greens and black glass (dark green/amber) which it was believed protected the contents from sun damage as well as hid the impurities in the said contents.
Amethyst glass started life as clear glass and arises from exposure to ultra violet light reacting with the manganese content of the glass ironically used to prevent discoloration